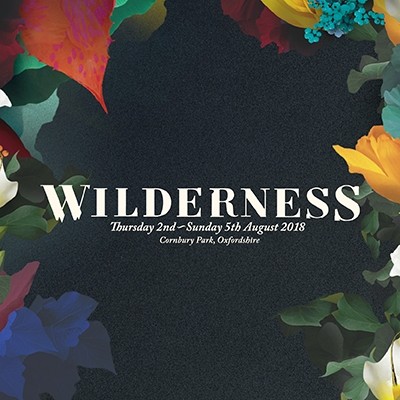 Wilderness Festival 2018

Cornbury Park, Charlbury
Between Thursday 2nd Aug and Sunday 5th Aug 2018
Maximum of 6 tickets
Under 18's must be accompanied by an adult.
Buy Tickets for Wilderness Festival 2018


Event Information
CAMPING AREAS

When you go to purchase your ticket you will be asked to choose which campsite you wish to stay in. These tickets will still give you access to the festival for the whole weekend but it helps us ensure that everyone has enough space to set up camp.
We want to make sure that everyone enjoys Wilderness as much as possible. We realise that for some this might mean rising with the sun for an early morning meditation class or wild run, whilst for others this might mean dancing through the night. It is for this reason that you choose where you want to camp when you buy your ticket. Make sure that if you want to camp with friends/family that you all buy tickets to the same campsite and arrive together to ensure you get to camp with your group.

FAMILY CAMPING – Ideal for families, please choose this option if you are bringing small children, this campsite includes baby changing facilities and family welfare. It is the closest free campsite to the arena and the closest campsite to the kid's area to help those little legs.

QUIET CAMPING – Further away from the arena and therefore quieter. Personal / portable sound systems are not permitted, we ask you not to bring children under the age of 8 and to keep the noise down after 22:00. Ideal if you want to get some shut eye.

GENERAL CAMPING – This camp is perched alongside the swimming and boating lakes and is close to the festival arena.

LIVE-IN VEHICLE CAMPING – Please note there are no power or water hook ups available in the live-in vehicles field.
Only Live‐in vehicles are permitted in the dedicated Live-In Vehicle campsite. You must book a live-in vehicle pass alongside your festival ticket(s) in advance. Only attached awnings are allowed subject to space. Tents or Gazebos cannot be pitched in this campsite for safety reasons.

Trailer tents are NOT allowed.

Please book a general/quiet car park pass if you are bringing extra vehicles of the non-live-in variety to the festival.

LIVE-IN VEHICLES CAMPING Ts&Cs
IMPORTANT INFO UPDATED FOR YOUR COMFORT AND SAFETY
The criteria for our Live-In Vehicle Field have been updated after consultation with the estate where we make our home and their expert team.
No awnings, tents or trailer tents. No sleeping under canvas. Far from wishing to be draconian, this is for your comfort and safety. The Live-in Vehicles Field is full of ancient trees and whilst we work with the estate to tame them, there is always the risk of falling branches. The estate have made this a condition of our use of this area of the park.

Secondary structures such as gazebos are not allowed.

There's a water point in the area for your general use.

There are no specific water or electricity hook-ups available for individual Live-In Vehicles.

There will be tipping points for Live-In Vehicle chemical toilets, situated near the toilets blocks with-in their area.

Cooking and picnicking is encouraged. Please note that Propane or Butane cylinders must be under 7kg. No more than 1 cylinder per vehicle. Read more at https://wildernessfestival.com/info/category/where-to-stay/

Make sure all your crew has a Live-In Vehicle Camping festival ticket per person, in addition to your Live-In Vehicle Passes. Only one pass per vehicle is required.

Of course, each person within the vehicle must be sleeping in the vehicle and have a valid Live-In Vehicle Camping festival wristband.

Live-In Vehicle Passes must be purchased in advance. Please purchase them at the same time as your festival ticket. This is a hot ticket and they do sell like hot cakes.

1 x Live-in Vehicle Pass is valid for a vehicle within the space of 8x7m. If your vehicle is bigger than this you will be required to book 2 x passes.

All Live-In Vehicles will be subject to searches as you arrive.

Unsuitable vehicles with Live-In Vehicle tickets - including unconverted vans - will not be allowed entry and will be sent to one of the festival car parks.

We can accommodate a limited number of tour buses and larger vehicles by prior agreement only at an additional cost. These vehicles will only be allowed in the fields if they have living accommodation with fitted sleeping facilities and either fitted cooking or washing facilities.

The decision that your Live-In Vehicle meets with our criteria is made by Wilderness Festival, and their decision is final.

If you are unsure if your vehicle meets requirements then please email info@wildernessfestival.com or message us on Facebook with a picture and we will let you know.

The Live-In Vehicle Field is the only place where ticket holders can sleep in their vehicles, and you will not be able to sleep in it in the car park. It is contrary to our licence to allow this; security patrols will not permit sleeping in any vehicles in these car parks.

The towing vehicle may remain in the Live-In Vehicle Field for the duration of the festival.

There is no re-entry for Live-In Vehicles that leave the site during the event.

If you are an access customer with a live in vehicle to get in touch with accessibility@mamaco.com. There will be a designated area within the Accessibility campsite. PLEASE NOTE: There are NO water or electricity hook-ups available for individual live-in vehicles in the Accessibility campsite; however there will be a water point in the area for general use.